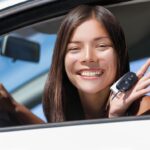 Mr. Car Key: Leading the Charge in Smart Car Keys – The Future of Security Technology
September 28, 2023
The Essential Role of a Commercial Locksmith: Safeguarding Your Business
September 28, 2023
In the hustle and bustle of modern life, our cars are more than just vehicles; they are our trusty companions, facilitating our daily journeys with ease. And at the heart of every smooth journey is a well-functioning car key. However, like all things, car keys are susceptible to wear and tear, and a broken car keys can quickly turn your daily routine into a nightmare. In this comprehensive 1000-word article, Mr. Car Keys delves into the dangers of a broken car key, guiding you on when it's essential to replace it. With our expertise, we'll help you ensure the reliability and security of your vehicle.
The Role of a Car Key
Before we explore the perils of a broken car key, let's understand the pivotal role it plays in your daily life:
Access: Your car keys is your passport to your vehicle. It's the first and most crucial step to get behind the wheel.
Security: Car keys incorporate security features to protect your vehicle from theft. These features are crucial for your peace of mind.
Convenience: A well-functioning car keys provides convenience, allowing you to lock and unlock your car with ease, start the engine, and even access remote features.
The Dangers of a Broken Car Key
A broken car keys can pose a series of dangers and inconveniences:
Lockout Risk: If your key breaks while attempting to unlock your car, you could end up locked out, possibly in an inconvenient or unsafe location.
Security Vulnerability: A damaged key might not provide the security it was designed for, making your vehicle an easier target for theft.
Ignition Issues: Broken keys can cause ignition problems, preventing your car from starting or leading to costly repairs.
Key Extraction Challenges: Extracting a broken key from a lock or ignition can be a daunting task, often requiring professional assistance.
Signs It's Time for Replacement
To avoid the perils of a broken car key, it's essential to recognize the signs that indicate it's time for a replacement:
Physical Damage: Visible cracks, bent key blades, or broken key shells are clear indicators that your key needs replacement.
Difficulty in Turning: If your key is increasingly challenging to turn in the ignition or door lock, it's a sign of wear and potential future breakage.
Intermittent Functionality: If your key works intermittently or requires jiggling to function, it's a clear signal of internal issues.
Worn-Out Buttons: For remote key fobs, worn-out or unresponsive buttons can impede keyless entry and other remote functions.
Frequent Repairs: If you find yourself frequently repairing your key, it's a sign that it's nearing the end of its lifespan.
Mr. Car Key: Your Key Replacement Experts
At Mr. Car Key, we understand the dangers of a broken car key and are committed to keeping you safe and your vehicle secure. Here's how we lead the way in car keys replacement:
Expertise: Our team comprises highly skilled locksmiths who specialize in car key systems. We possess in-depth knowledge of various car models and can provide tailored solutions.
Advanced Tools: To deliver exceptional service, we invest in cutting-edge diagnostic tools and equipment required to work with modern car keys.
Comprehensive Services: Whether you require a traditional key replacement, a smart key, or key fob programming, Mr. Car Keys offers a comprehensive range of services.
Emergency Assistance: We provide 24/7 emergency locksmith services to ensure you're never stranded, even in the most challenging situations.
Conclusion
A broken car keys is more than just an inconvenience; it's a potential hazard that can disrupt your daily routine and compromise your vehicle's security. Recognizing the signs of a failing key and taking timely action is essential to avoid the perils associated with key failure. Mr. Car Keys is your trusted partner in ensuring the reliability and security of your car keys.
Contact Us
Ready to address the dangers of a broken car key? Reach out to Mr. Car Key today at (844) 735-6303 or visit our website at https://mrcarkey.com/ to explore our extensive range of key replacement and repair services. Let Mr. Car Keys keep you on the road safely and securely.
Mr. Car Key: Leading the Charge in Smart Car Keys – The Future of Security Technology