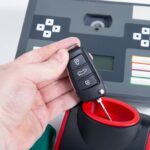 Preventing Emergency Lockouts: Caring for Your Car Key
September 28, 2023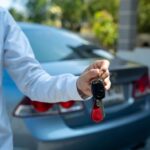 Mr. Car Key: Navigating the Perils of a Broken Car Key – Knowing When It's Time for Replacement
September 28, 2023
In today's rapidly evolving technological landscape, innovation is the key to staying ahead. The automotive industry is no exception, with a growing emphasis on smart car keys. These high-tech marvels are more than just a convenience; they represent the future of security technology, offering enhanced safety, convenience, and peace of mind to car owners. In this 600-word article, we dive deep into the world of smart car key and explore how Mr. Car Key is at the forefront of this revolution, providing cutting-edge solutions that redefine car security.
The Rise of Smart Car Key
Smart car keys, often referred to as key fobs or proximity keys, represent a significant leap forward in automotive security and convenience. They offer an array of features that go beyond merely unlocking doors and starting engines:
Smart keys leverage encrypted communication between the key and the vehicle, making them exceptionally secure and resistant to theft.
Keyless entry eliminates the need to physically insert a key into the ignition, simplifying the process of accessing and starting your car.
Many smart keys come with remote start capabilities, allowing you to warm up or cool down your vehicle before setting foot inside.
Immobilizer technology within smart keys adds an extra layer of security, thwarting hotwiring attempts and unauthorized access.
Mr. Car Keys: Pioneering Smart Car Key Solutions
At Mr. Car Keys, we recognize the transformative power of smart car keys in reshaping car security and convenience. Here's how we're leading the charge in this exciting technology revolution:
1. Expertise: Our team of locksmiths and technicians is well-versed in the complexities of smart car keys systems. We have the expertise to program, repair, and replace smart keys for a wide range of vehicle makes and models.
2. Cutting-Edge Tools: To provide top-notch service, we invest in the latest diagnostic tools and equipment needed to work with smart keys effectively.
3. Comprehensive Solutions: Whether you need a replacement smart key, key fob programming, or any other smart key-related service, Mr. Car Keys is your one-stop solution provider.
4. Emergency Assistance: Smart key issues can be particularly stressful, especially when you're locked out or facing a malfunction. Mr. Car Keys offers 24/7 emergency locksmith services, ensuring you're never stranded.
The Future of Car Security
As the automotive industry continues its digital transformation, smart car keys are poised to become the gold standard for car security and convenience. Their ability to deter theft and provide hassle-free access to your vehicle is unmatched. But with great technology comes the need for expert support, and that's where Mr. Car Key steps in.
Conclusion
The future of car security is undoubtedly intertwined with smart car key. These advanced devices are not just gadgets; they represent a leap forward in protecting your vehicle and enhancing your driving experience. Mr. Car Key is proud to be at the forefront of this technological revolution, ensuring that car owners have access to the best solutions for their smart key needs.
Contact Us
Ready to experience the future of car security with smart keys? Contact us today at (844) 735-6303 or visit our website at https://mrcarkey.com/ to explore our range of smart key services. Let Mr. Car Keys lead the way in securing your vehicle and embracing the future of automotive technology.
Mr. Car Key: Navigating the Perils of a Broken Car Key – Knowing When It's Time for Replacement