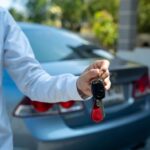 Mr. Car Key: Navigating the Perils of a Broken Car Key – Knowing When It's Time for Replacement
September 28, 2023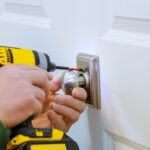 Securing Your Business: How Mr. Car Key, Your Trusted Commercial Locksmith, Can Help
September 28, 2023
In the realm where commerce and security converge, the pivotal role of a commercial locksmith becomes abundantly clear. Picture this: a thriving business establishment, bustling with employees and customers, all operating in a seamless and secure environment. Behind this façade of order and efficiency lies the meticulous work of a commercial locksmith, the unsung guardian of business protection. In this article, we delve into "The Essential Role of a Commercial Locksmith: Safeguarding Your Business," illuminating the critical functions these experts perform to ensure that your business remains a fortress of trust and security.
Access Control Mastery: Your Business's First Line of Defense
Enter the world of access control systems, where commercial locksmiths excel in crafting tailored entrances that align with your business's unique needs. Imagine a scenario where authorized personnel seamlessly access specific areas while unauthorized individuals are unequivocally restricted. This is where the expertise of commercial locksmiths shines brightly. Through a combination of intricate technology and strategic planning, these professionals create a robust security framework that adapts to your business's operational requirements.
Access control extends far beyond granting or denying entry; it's about orchestrating a harmonious balance between convenience and security. From the implementation of key cards to cutting-edge biometric systems, commercial locksmiths ensure that your business remains a sanctuary where authorized access resonates, and potential threats are swiftly kept at bay.
High-Security Fortresses: Safeguarding Your Valuables
In a world where assets hold immense value, the locks that protect them become the guardians of your business. High-security locks are more than just mechanical devices; they symbolize the peace of mind that your investments are shielded from harm. Commercial locksmiths transcend the conventional and craft locks that can withstand the tests of time and tampering. Whether you're safeguarding a valuable inventory room or protecting confidential documents, these experts create fortresses that deter potential breaches.
Their skill and dedication are a testament to their commitment to your business's protection. For them, security isn't just a feature; it's a cornerstone of your success, and they work diligently to ensure that your assets remain intact and your business thrives in a secure environment.
Master Key Symphonies: Streamlining Controlled Entry
Imagine holding a single key that opens multiple doors, each leading to a different level of access within your business. This is the magic of master key systems, a symphony conducted by commercial locksmiths. Through strategic design and meticulous planning, these systems streamline entry for authorized personnel while maintaining a structured hierarchy of access.
With master key systems, you gain the convenience of a single key and the precision of controlled entry blended into one harmonious solution. Commercial locksmiths transform the humble keychain into a conductor's wand, orchestrating the perfect balance between convenience and security, ensuring that your business operations remain efficient and safeguarded.
Round-the-Clock Safeguarding: Emergency Commercial Locksmith Services
Emergencies can strike without warning, and during those critical moments, commercial locksmiths become your 24/7 sentinels. Whether you're faced with a break-in, a malfunctioning lock, or the misplacement of a key, their hotline becomes your lifeline. Their prompt response doesn't just mitigate the situation; it reinstates your business's integrity.
Beyond the physical repairs, their round-the-clock availability sends a powerful message: your business's protection isn't limited to a 9-to-5 commitment; it's a round-the-clock pledge. The expertise of commercial locksmiths extends beyond locks; it's a shield that fortifies your business's resilience, ensuring that every challenge becomes a stepping stone to your success.
Conclusion
The essential role of a commercial locksmith cannot be understated when it comes to safeguarding your business. These experts are the architects of secure access, the creators of impenetrable fortresses, and the conductors of controlled entry. Their unwavering commitment to your business's protection ensures that your assets are safeguarded, your operations remain efficient, and your peace of mind is never compromised.
Contact Us
Ready to fortify your business's security with the expertise of a commercial locksmith? Contact  Mr. Car key today at (844) 735-6303 or visit our website at https://mrcarkey.com/ to schedule an appointment. to explore how we can help safeguard your business and ensure its continued success.