Mastering Security: Why Your Business Needs a Commercial Locksmith
September 28, 2023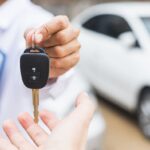 The Journey of Car Key Replacement
September 29, 2023
In the intricate web of modern business operations, security plays a pivotal role. Businesses of all sizes depend on safeguarding their assets, data, and physical spaces. In this complex landscape, the role of a commercial locksmith is often underestimated but absolutely crucial. At Mr. Car Key, we understand the significance of security in the business world, and we are here to play an integral role in mastering security within your organization. In this article, we will delve into the expertise and the indispensable role of Mr. Car Key in commercial locksmith services, unlocking the mysteries behind our vital contributions to businesses.
Commercial Locksmith:  Access Control – The Foundation of Security
Access control is the linchpin of any business's security system. It dictates who can enter specific areas and under what circumstances. At Mr. Car Key, we are the architects of this intricate system. We design and implement access control solutions tailored to a business's unique needs.
Whether it's a key card system, biometric authentication, or traditional lock and key access, Mr. Car Key ensures that authorized personnel can move freely while unauthorized individuals are kept at bay. This mastery of access control forms the foundation upon which all other security measures are built.
Commercial Locksmith : Mastering High-Security Locks
Businesses house valuable assets, confidential information, and sensitive equipment. High-security locks are the sentinels that protect these treasures. At Mr. Car Key, we are not just locksmiths; we are security experts who craft high-security fortresses.
We design and install locks that can withstand tampering, picking, and forced entry attempts. These locks serve as the first line of defense against potential breaches, and Mr. Car Key ensures they are robust and impenetrable.
Master Key Systems: Convenience and Control
In the complex environment of a business, there are often different levels of access required. Mr. Car Key's expertise extends to the creation of master key systems. These systems allow for the convenience of a single key that can open multiple doors while maintaining a hierarchy of access.
Imagine a manager with a single key that grants access to the main office, supply room, and employee lounge, while limiting access to confidential areas. Mr. Car Key designs and implements these systems with precision, offering businesses the balance of convenience and control.
Emergency Response: 24/7 Protection
Emergencies in business don't adhere to a 9-to-5 schedule. At Mr. Car Key, we understand this, and we offer round-the-clock emergency services. Whether it's a lockout situation, a malfunctioning security system, or a security breach, our prompt response is critical.
Our expertise extends to not only repairing or replacing locks but also assessing vulnerabilities and recommending security enhancements. Our availability sends a powerful message to businesses: security is not a one-time service but an ongoing commitment.
Conclusion
In the realm of business security, Mr. Car Key is an indispensable partner. Our expertise in access control, high-security locks, master key systems, and emergency response ensures that businesses can operate securely and efficiently. As businesses continue to evolve and face new security challenges, Mr. Car Key adapts and innovates to meet these needs.
So, the next time you enter your business premises without a second thought, remember the role of Mr. Car Key – the silent guardian of your business's security.
Contact Us
If you're looking for expert commercial locksmith services to enhance your business's security, contact us at (844) 735-6303 or visit our website at https://mrcarkey.com/. Unlock the expertise that Mr. Car Key can offer, and fortify your business's protection today.