Rev Up Security: The Automotive Locksmith Advantage
August 21, 2023
Mastering Locksmith Services: Your Key to Security Solutions
August 23, 2023
Step into the realm where security and commerce intertwine – the world of commercial locksmith services. In a landscape where businesses thrive on trust and protection, commercial locksmiths emerge as the guardians of an essential balance. Picture this: intricate access control systems ensuring only authorized individuals step through the doors, high-security locks safeguarding invaluable assets, and master key systems orchestrating controlled entry. The role of a commercial locksmith isn't just about locks; it's about crafting an environment where trust and security harmonize. Join us as we delve into "Guardians of Business Protection: Navigating Commercial Locksmith Services," uncovering the intricate web of security these experts weave, ensuring that businesses flourish within fortified walls.
Access Control Mastery: Safeguarding Business Spaces
Enter the world of access control systems, where commercial locksmiths mastermind secure entrances tailored to your business's needs. Imagine a setting where employees can access specific areas while outsiders are restricted – this is where the expertise of commercial locksmiths shines. Through intricate technology and strategic planning, these professionals create a fortress that adapts to your operational requirements. From key cards to biometric systems, access control isn't just about granting entry; it's about orchestrating a harmonious balance between convenience and security. Their artistry ensures that your business remains a sanctuary where authorized access resonates and threats are kept at bay.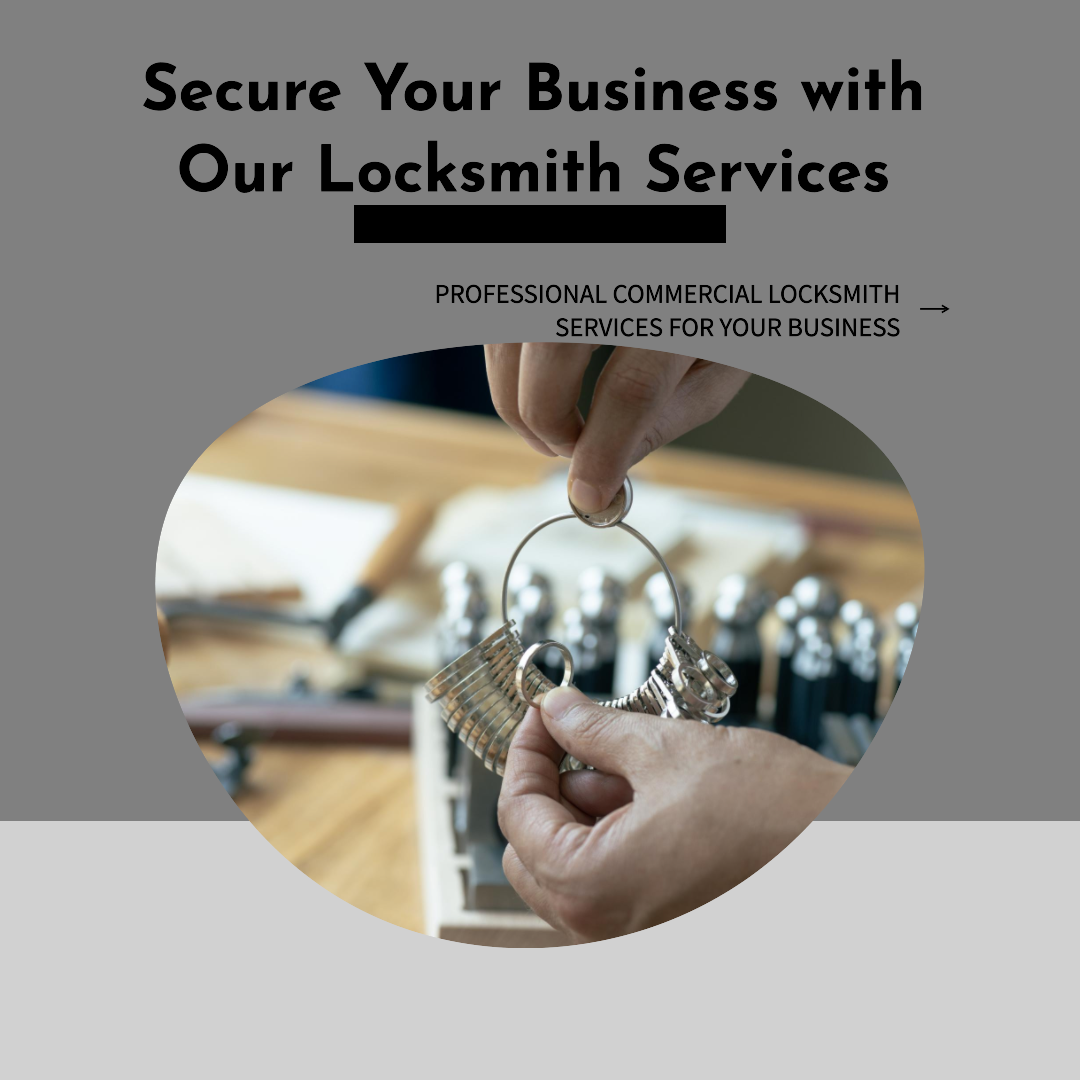 High-Security Fortresses: Elevating Business Protection
In a world where assets hold immense value, locks transform into guardians. High-security locks aren't just about bolts and cylinders; they are about the peace of mind that your investments are shielded. Commercial locksmiths go beyond the conventional, crafting locks that withstand the tests of time and tampering. Whether it's a valuable inventory room or confidential documents, these experts create fortresses that deter potential breaches. Their skill is a testament to their commitment to your business's protection, ensuring that security isn't just a feature but a cornerstone of your success.
Master Key Symphonies: Orchestrating Controlled Entry
Imagine holding a single key that opens multiple doors, each catering to a specific level of access. This is the magic of master key systems, a symphony conducted by commercial locksmiths. Through strategic design, these systems streamline entry for authorized personnel while maintaining a hierarchy of access. It's the convenience of a single key and the precision of controlled entry blended into one. These locksmiths transform the keychain into a conductor's wand, harmonizing convenience, and security to perfection.
Round-the-Clock Safeguarding: Emergency Commercial Locksmith Services
Emergencies strike without warning, and in such moments, commercial locksmiths are your 24/7 sentinels. Whether it's a break-in, a malfunctioning lock, or a misplaced key, their hotline becomes your lifeline. Their prompt response doesn't just mitigate the situation; it reinstates your business's integrity. Beyond the physical fix, their availability sends a message – that your protection isn't just a 9-to-5 commitment; it's a round-the-clock pledge. Their expertise extends beyond locks; it's a shield that fortifies your business's resilience, making sure that every challenge becomes a stepping stone to your success.
Igniting Trust: Mr. Car Key's Expertise in Commercial Solutions
When the engines of commerce roar, security becomes the driving force. In the realm of commercial locksmithing, Mr. Car Key emerges as the beacon of reliability. Their expertise isn't just about keys and locks; it's about safeguarding the rhythm of your business. From access control systems that orchestrate entry to high-security solutions that fortify your premises, they blend innovation with experience. Trust in Mr. Car Key isn't just a choice; it's an assurance that your business is in capable hands. Experience their expertise through their digital hub at https://mrcarkey.com/ or dial 855-316-2776 – where reliability is more than just a promise; it's a guarantee that your business's security is their priority.
The Call to Convenience: Mr. Car Key's 24/7 Assistance
Imagine this: the security of your business is compromised, and it's late at night. This is where Mr. Car Key's 24/7 assistance becomes your lifeline. Their hotline (885-316-2776) isn't just a number; it's a gateway to swift solutions. Their website https://mrcarkey.com/ isn't just a page; it's a digital space where expertise resides. Beyond locksmithing, Mr. Car Key offers an invitation to convenience, making sure your business's security isn't a concern but a certainty. With every call answered and every service rendered, they steer your business toward a journey where security and reliability drive success.