Locked Out? Swift Solutions with Professional Lockout Assistance
September 5, 2023
Exploring Enhanced Safety: The World of Comprehensive Security Solutions
September 7, 2023
Imagine the ease of having spare keys at your fingertips whenever you need them – that's the essence of "Key Duplications Made Easy: Unlocking Convenience." In this exploration, we delve into the world of duplicating keys, turning what might seem like a mundane task into a gateway of practicality. Picture the simplicity of obtaining duplicates for your home, office, or vehicle, ensuring you're never locked out of essential spaces. From saving time to providing peace of mind, key duplication emerges as a solution that effortlessly aligns with your daily life, making access control a breeze.
Precision Replication: The Science of Key Duplication
Key duplication isn't just a matter of making a copy; it's a precise science that requires careful attention to detail. Imagine the skilled hands of a locksmith examining your original key, ensuring that every groove and cut is replicated with utmost accuracy. This precision ensures that your duplicate key fits seamlessly into the lock, granting you the same smooth access as the original. From residential to commercial spaces, the science of key duplication guarantees that you're never left without a spare.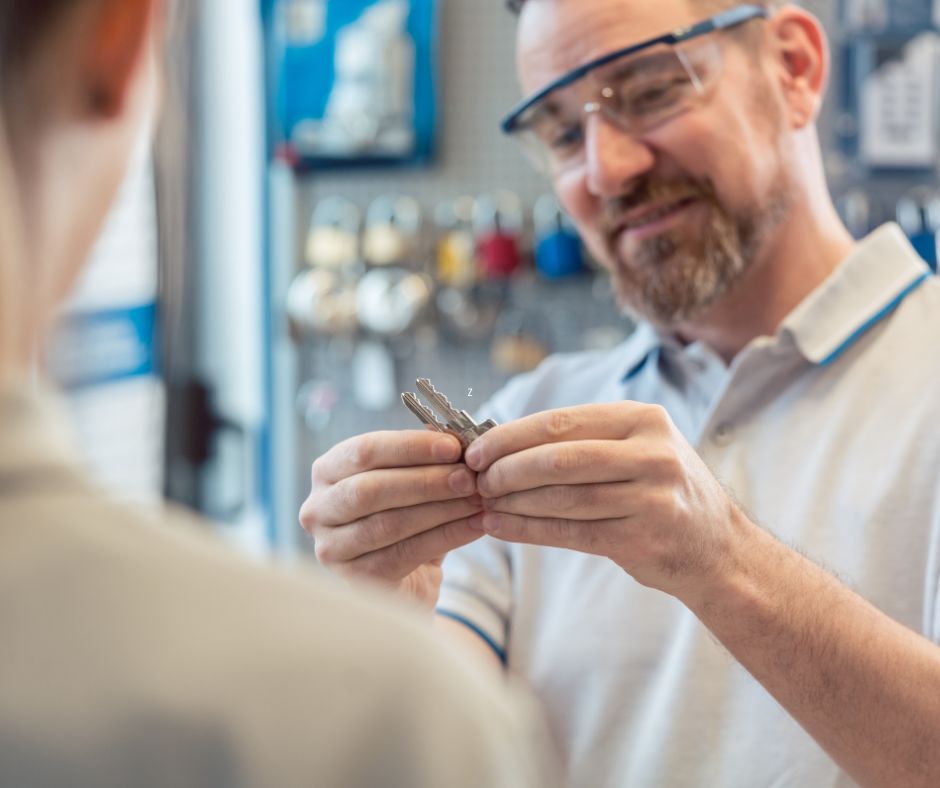 Versatile Solutions: Duplicates for Every Need
The convenience of key duplication extends beyond home scenarios; it encompasses various aspects of your life. Envision having duplicates for your office, ensuring that everyone has access without needing to wait. Picture having spare car keys that come to the rescue when you misplace the originals. With key duplication, the possibilities are vast, catering to all your access needs with unmatched versatility.
Elevating Security: The Art of Restricted Key Duplication
Security goes hand in hand with convenience, and that's where the concept of restricted key duplication comes into play. Imagine a situation where you control who can duplicate your keys, preventing unauthorized duplication and enhancing your space's security. The art lies in creating restricted keys that can only be duplicated with your authorization. This additional layer of control empowers you to keep your keys in trusted hands, minimizing the risk of unauthorized access.
Safeguarding Convenience: The Value of Duplicates
Beyond the technicalities, key duplication is an investment in practicality. Imagine the relief of knowing that you have spare keys readily available in case of emergencies. From being locked out to needing access for family members, duplicates serve as a buffer against unexpected inconveniences. They grant you the peace of mind that comes from knowing that even if the originals are misplaced, you're always just a duplicate away from smooth access.
Your Key Duplication Partner: Unveiling Mr. Car Key's Expertise
When it comes to key duplication, a trustworthy partner can make all the difference. Imagine a team that's more than just skilled locksmiths; they're your collaborators in ensuring seamless access. At Mr. Car Key, key duplication isn't just a service; it's an art perfected over years of dedication. With a single call to 855-316-2776, you're connecting to experts who understand the nuances of duplication, guaranteeing that your duplicates are as reliable as the originals. Whether it's for your home, vehicle, or workplace, their commitment to precision ensures that your duplicates fit effortlessly and function flawlessly.
Effortless Access through Technology: Explore Mr. Car Key
Unlocking the world of key duplication becomes a breeze when you explore the digital realm of Mr. Car Key at https://mrcarkey.com/. Imagine a user-friendly platform that not only showcases their services but also reflects their dedication to transparency and customer satisfaction. Their website isn't just a gateway; it's an invitation to experience the convenience of reliable solutions. From browsing their services to contacting them for immediate assistance, their online presence ensures that your access needs are met with efficiency, expertise, and a touch of innovation.