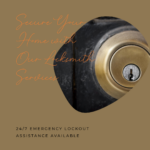 The Role of a Residential Locksmith
September 19, 2023
Safe Installation: A Shield for Your Valuables
September 25, 2023
In the ever-evolving landscape of home security, having a trustworthy partner by your side is paramount. That's where residential locksmith come into play as your home's trusted guardians. These skilled professionals go beyond the conventional to ensure your home's safety with a range of expert services. From lock installations to key replacements, their dedication to securing your abode provides you with peace of mind that your sanctuary is well-protected. In this article, we delve into the world of residential locksmiths, unveiling their vital role in fortifying the safety of your most cherished space.
Expert Lock Installations for Ultimate Security
When it comes to safeguarding your home, the foundation lies in having robust locks in place. Residential locksmith bring their expertise to the table by offering top-notch lock installations. With their deep understanding of the latest security technologies and trends, they can recommend and install locks that suit your specific needs. Whether it's traditional deadbolts or smart locks that sync with your smartphone, these professionals ensure that your home remains an impenetrable fortress.
Efficient Key Replacements for Every Need
Lost, stolen, or broken keys can disrupt your sense of security. Residential locksmiths come to the rescue with their efficient key replacement services. They have the tools and skills to create new keys on the spot, whether it's a standard key, a transponder key, or a high-security key. By swiftly replacing your keys, they help you regain access to your home without compromising safety.
Emergency Lockout Assistance: 24/7 Support
Locked out of your own home? It happens to the best of us. Residential locksmiths understand the urgency of such situations and offer round-the-clock emergency lockout assistance. No matter the time or day, they'll promptly come to your aid and get you back inside your home safely. Their quick response ensures that you're never left stranded outside for long.
Tailored Security Solutions for Peace of Mind
Every home has unique security requirements, and residential locksmith recognize this. They offer customized security solutions tailored to your home's layout, your family's needs, and your budget. Whether it's reinforcing weak entry points, installing security systems, or providing expert advice on bolstering your home's safety, these professionals offer a comprehensive approach to safeguarding your loved ones and possessions.
Trusted Car Key Experts: Mr. Car Key at Your Service
When it comes to ensuring the security of your vehicle, look no further than Mr. Car Key. With a proven track record and a reputation for excellence, they are your trusted car key experts. Their team of skilled professionals is well-versed in the intricacies of car key cutting, programming, and replacement. Whether you've lost your keys, need a spare set, or require a transponder key reprogramming, Mr. Car Key has the expertise to deliver efficient and reliable solutions that will get you back on the road in no time.
Accessible and Reliable Services: Contact Mr. Car Key Today
Don't let car key mishaps inconvenience your day. Mr. Car Key offers accessible and reliable services that are just a phone call away. Their friendly and knowledgeable customer service team is available at 855-316-2776 to assist you with your car key needs. Moreover, you can visit their website at https://mrcarkey.com/ to explore their range of services, learn more about their expertise, and even request a quote. With Mr. Car Key, you're not just getting a solution to your car key troubles – you're getting peace of mind and a reliable partner in ensuring the security and functionality of your vehicle.