Safe Installation: A Shield for Your Valuables
September 25, 2023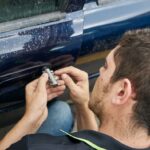 On the Road: Navigating Automotive Locksmith Solutions
September 27, 2023
In an era where safety and peace of mind are paramount, understanding the effectiveness of your home security measures is essential. Welcome to the world of "Evaluating Security: The Importance of Home Security Assessment," an article that sheds light on the significance of assessing and enhancing your home's safety. Here, we'll explore the key reasons why conducting a thorough security assessment matters, from identifying vulnerabilities to tailoring solutions that fit your unique needs. Our aim is to empower you with the knowledge and tools to safeguard your home and loved ones effectively. So, let's dive into the realm of home security and discover how a comprehensive assessment can be your first step towards a more secure future.
Understanding the Basics
When considering the security of your home, it's essential to start with the fundamentals. A home security assessment is a systematic evaluation of your property to identify vulnerabilities and enhance protection. This process involves a thorough examination of entry points, existing security features, and potential weaknesses. By understanding these basics, you'll have a solid foundation for improving your home's security, ensuring the safety of your loved ones and valuable possessions.
Identifying Vulnerabilities
Your home may have hidden weak points that burglars could exploit. Identifying these vulnerabilities is a critical step in bolstering your security. Common weak spots include outdated locks, poorly lit entryways, and unprotected windows. During a home security assessment, you'll learn how to recognize these areas of concern. By shedding light on potential risks, you'll be better equipped to take preventive measures and fortify your home against intrusion.
Tailoring Solutions
Every home is unique, and security solutions should reflect this individuality. It's vital to customize security measures to suit your specific needs. This involves selecting the right security hardware, such as locks, alarms, and surveillance systems, that align with your property's layout and your family's lifestyle. Additionally, embracing smart technology can provide added convenience and control. By tailoring security solutions, you ensure that your home's protection is efficient and aligned with your requirements.
Peace of Mind and Beyond
The advantages of a comprehensive home security assessment extend beyond physical protection. Knowing that your home is secure provides peace of mind, reducing anxiety and fostering a sense of well-being for you and your family. Moreover, an enhanced security system can increase your property's resale value, making it a smart investment in your future. By prioritizing security, you're not only safeguarding your home but also enhancing its overall quality and value.
Unlocking Expertise with Mr. Car Key
When it comes to securing your home, trust is paramount. That's where Mr. Car Key comes in. With a reputation for excellence and a commitment to your safety, our team offers a wide range of locksmith services. From rekeying locks to installing advanced security systems, we've got you covered. Our experienced technicians are not only skilled but also dedicated to providing solutions tailored to your needs. Visit our website at https://mrcarkey.com/ to explore our services and discover how we can help fortify your home.
Your Trusted Security Partner
At Mr. Car Key, we understand that security is more than just locks and keys; it's about peace of mind. Our mission is to be your trusted security partner, ensuring that your home is a sanctuary where you feel safe and secure. Our dedication to reliability, professionalism, and customer satisfaction sets us apart. Whether you need immediate assistance with a lockout situation or want to schedule a comprehensive security assessment, give us a call at 855-316-2776. We're here to provide the reliable solutions you need to protect what matters most. Your security is our priority.