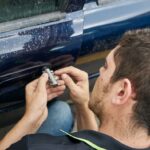 On the Road: Navigating Automotive Locksmith Solutions
September 27, 2023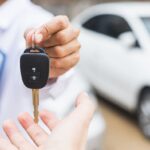 Navigating the Crisis: Lost Car Key and Mr. Car Key's Expert Solutions
September 28, 2023
Life on the road can be an adventure, but it also comes with its share of unexpected challenges. That's where automotive locksmith solutions step in to save the day. In this article, we'll be your guide to navigating the world of automotive locksmith services. From car key replacements to addressing lockouts, we'll explore the essential services that ensure you're never left stranded. Join us as we unveil the key to convenience and peace of mind for your journeys ahead.
The Lifesaver in Lockouts
Imagine this scenario: you're in a rush, your day is packed with appointments, and you accidentally lock your car keys inside your vehicle. Panic starts to creep in, but fear not. Automotive locksmiths are your guardian angels in such moments of despair. They possess the skills and tools to swiftly come to your rescue without causing any damage to your car. With their expert techniques, they can unlock your car doors, allowing you to retrieve your keys and get back on track, all while preserving your vehicle's integrity.
Car Key Replacement Solutions
Losing or damaging your car keys is never a pleasant experience. It can disrupt your plans and leave you feeling stranded. However, automotive locksmiths have the solution. They offer a range of car key replacement services, catering to various needs. Whether you need a traditional key, a transponder key, or a smart key fob, they have you covered. These professionals can cut and program keys to fit your vehicle's specifications, ensuring a seamless replacement process that gets you back behind the wheel without a hitch.
Ignition and Lock Repairs
Sometimes, the issue isn't about getting locked out of your car but facing problems with the ignition or locks themselves. These issues can be frustrating and even pose safety risks. Automotive locksmiths are adept at diagnosing and repairing such problems. Whether your key is stuck in the ignition, the lock cylinder is damaged, or your key won't turn, these experts have the expertise to resolve the issue. They use precise techniques to repair or replace faulty components, ensuring that your car's ignition and locks function smoothly and reliably.
Transponder and Remote Key Programming
In today's automotive landscape, many vehicles are equipped with advanced security systems, including transponder keys and remote key fobs. These high-tech keys enhance your vehicle's security but can also be complex to replace or program. Automotive locksmith specialize in transponder and remote key programming. They can program, reprogram, or replace these keys to sync seamlessly with your car's security system. This ensures that your vehicle recognizes your key, allowing you to start your engine and access all the features provided by these advanced keys. Trust these professionals to keep your modern car secure and operational.
Mr. Car Key: Your Trusted Automotive Locksmith
When it comes to automotive locksmith services, Mr. Car Key stands out as your dependable partner. Our commitment to excellence and customer satisfaction is unmatched in the industry. With years of experience under our belt, our team of skilled professionals is well-equipped to handle any automotive lock and key challenge you may face. We take pride in our swift response times, ensuring that you're never left stranded in a lockout situation. Whether it's unlocking your car, replacing lost keys, or repairing your ignition, we have the expertise and the right tools to get the job done efficiently. At Mr. Car Key, your automotive security is our top priority.
Your Satisfaction, Our Guarantee
At Mr. Car Key, we understand that trust and reliability are paramount when choosing an automotive locksmith. That's why we stand by our work with a satisfaction guarantee. Our commitment to providing reliable, high-quality services has earned us a reputation as a trusted partner for countless motorists. When you choose us, you're not just getting a solution to your automotive locksmith needs; you're gaining peace of mind. We believe in transparency, competitive pricing, and friendly service. So, whether you're locked out of your car, need a key replacement, or require ignition repairs, Mr. Car Key is your go-to choice. Visit our website at mrcarkey.com or give us a call at 855-316-2776 to experience the difference today. Your satisfaction is our ultimate guarantee.